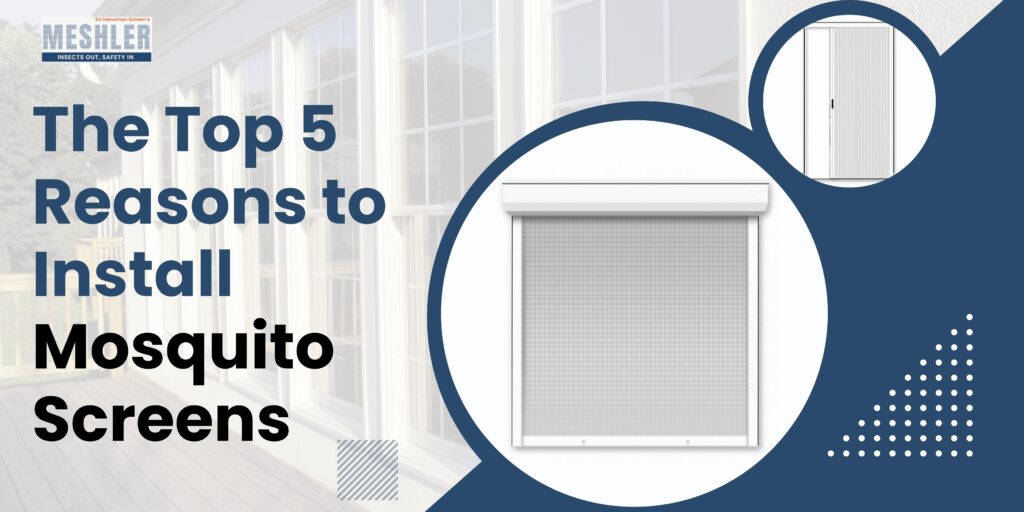 The Top 5 Reasons to Install Mosquito Screens
Mosquitoes are one of the deadliest insects that spread diseases like malaria, dengue fever, etc. They carry some harmful viruses that get into our bloodstream when a mosquito bites.it is very important to take preventive steps to escape these harmful bites especially during summer. There are many ways to keep mosquitoes at bay, one of the effective ways is to install insect screen protectors to your doors and windows. It is an eco-friendly way to avoid unwanted visitors that have the potential to spread diseases. There are many reasons why we should use these screens. In this blog, let's discuss top 10 reasons to install mosquito screens to your doors and windows.
Protection from mosquito borne diseases
Main reason to install these screens is to prevent mosquito borne diseases. There are several mosquito borne diseases that are deadly and widespread. Some of them are malaria, dengue, zika virus etc.. By using these fly screen protectors you can keep yourself as well as your family safe from such mosquito borne diseases.
The pores in the mesh enable fresh air to circulate inside the home, making you feel the cool breeze. It is particularly needed to be installed in warmers when you desire to experience the cool and comfortable indoors. These allow better ventilation in all seasons without any buzz of insects.
Having a stressful day will make you want to have a peaceful rest to recharge your body to work efficiently the next day, but sometimes the nuisance of mosquitoes can disturb your sleep and lower the quality of your rest. Installing mosquito screens can make us feel much better by keeping those insects at bay and enabling us to sleep comfortably.
Protection from other insects
The mesh not only blocks out mosquitoes but also other annoying insects creating a bug free zone indoors for a comfortable and healthy living. Installing these could be a safest option for those that have kids in order to avoid harmful bites that damage the skin of the children.
These are eco-friendly options to keep harmful and annoying insects at bay. They are pet friendly and children friendly. As they don't release any harmful fumes they are a safe option to go for. They do not also have any harmful effect on the environment as well. They are made safe and customized according to the type of windows and doors.
We at Meshler manufacture the best mosquito screens keeping in mind the modern architecture and irritating insects. We offer various products like pleated mesh, zip screens, honeycomb partitions, pleated security mesh. Our zip screens are two types: motorized and manual.we also offer pleated screens with standard printing. Our Mesh doors come with magnetic locks with a 5 years warranty. The mesh we offer is long lasting and transparent enabling you to enjoy the view of landscapes around your residence. Looking for a perfect insect screen ? then we Meshler in hyderabad is your best choice, contact us today to get a quote.
What kind of mosquito screens are available in the current market?
There are different types of screens available in the market such as retractable screens, sliding screens, frame screens, magnetic screens etc. you can go for any screens that comes in your budget and suits your interiors and requirements.
Do insect screens need any special maintenance and cleaning?
Yes, they need to be cleaned frequently to remove the dust and you can use vacuum cleaner or any other soap, water or other chemicals to clean it and maintain it.
Can mosquito screens be installed on any type of doors and windows?
Yes , they come with the option that is they are customized to suit your windows and doors. They can be installed anywhere where you need to block out the insects to enjoy a happy space.